Founded by author and educator Jennifer Stanchfield, Experiential Tools is known internationally for our dedication to the art and science of experiential group facilitation and teaching. Our mission is to help educators fill their toolbox with quality, unique, and user-friendly methods to enhance learning, increase engagement, build community, facilitate group development, and engage learners in meaningful reflection and dialogue. Our services include consulting, professional development programs, and team-building programs for schools, non-profit organizations, therapeutic programs and businesses. The Inspired Educator Blog, workshops, professional development programs, books, facilitation and teaching tools we offer are utilized by educators all over the world.

Jennifer Stanchfield the founder of Experiential Tools offers a holistic approach to training and consulting. Rather than providing a prescriptive curriculum or program, her style as a consultant involves ongoing collaboration with educators and program administrators to develop curriculum and methods that meet the specific needs and goals of an individual school, college or community program.
Providing a combination of staff team-building and professional development along with direct service classroom mentoring and coaching sessions leads to the development of sustainable ongoing experiential learning programs and practices that will be part of the school or organization for years to come. 

Consulting Services Include:
Custom professional development programs for educators and group facilitators focused on experiential, brain-based approaches to increasing engagement and building a positive and supportive learning community
Training and resources on experiential brain-based techniques to differentiate  instruction, develop social-emotional skills and enhance learning
Workshops for advisory group leaders, after school program staff, counselors, youth workers, mentors and recreational therapists focused on facilitation skills, experiential activities, program design and reflection tools and techniques
Direct service community building, experiential learning and team development programs in the K-12 classroom, college programs, and for organizational teams
Workshops for professional trainers and facilitators focused on the art of facilitation, innovative and inspiring reflection tools and techniques, and designing and delivering successful group building programs
Team-building programs for business and non-profit organizations, school faculty, and college student life programs
Facilitation and Teaching Tools:
A passion and focus of Jen's work has been promoting methods to engage learners in meaningful reflection and group dialogue. At the request of the educators and facilitators she works with, she now offers some of these tools as products.
Jen carefully hand selects the items that make up her facilitation tools focusing on usability, quality and aesthetic appeal. She "field tests" the tools regularly in her own work as a facilitator with students and adults.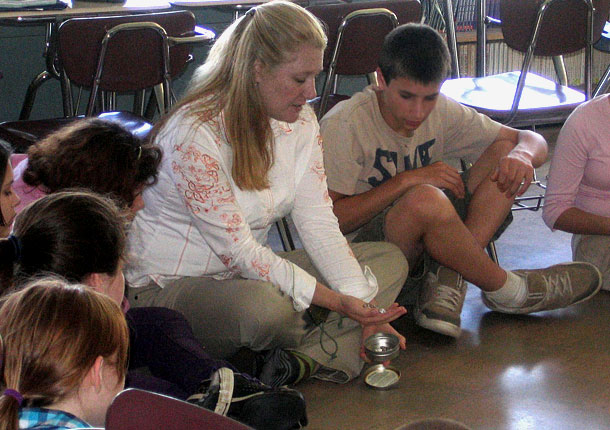 She seeks out locally made, sustainable and green materials such as the lead free pewter charms found in her Miniature Metaphors kits and the hand made in Vermont hemp bags that hold the Conversation Starters. The Pick-A-Postcard sets and Quotables kits are all designed and printed locally. All of the Experiential Tools products can be tailored for your specific needs. Larger and smaller quantities and customized assortments are available.